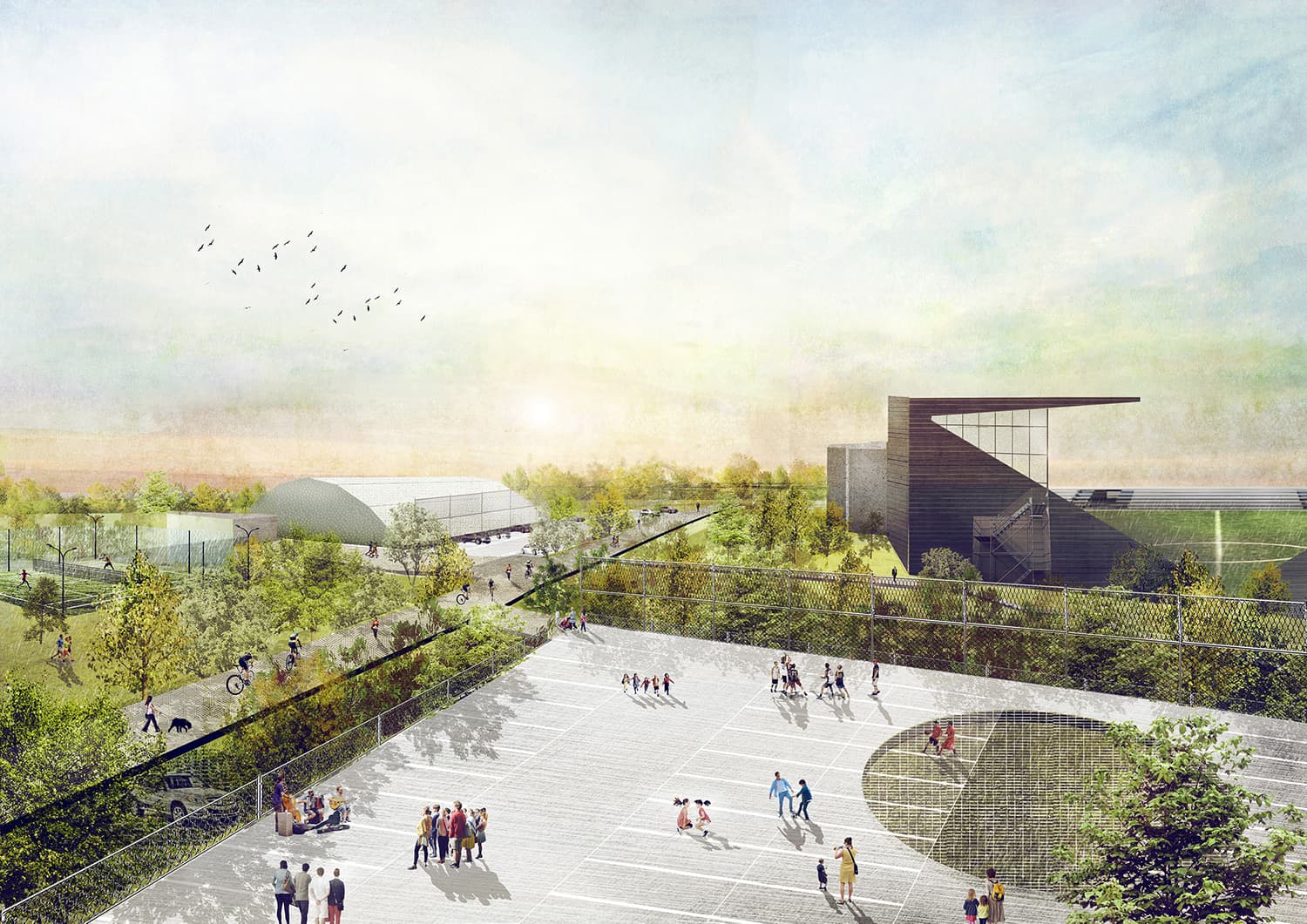 Construction of a new centrality in Heverlee

location:
Heverlee
BELGIUM
with:
MAARCH
UFORCE consultant (communication, participation)
ARA/Dries Beys
(techenical consultant)
MINT (mobility)
UTIL (structural engineering)

client:
Flemish Goverment, AFM
year:
2018
program:
public space - infrastructure
status:
competition
SIGNIFICANT PLACE
The residential center of Heverlee lacks identity. The space is functional, but doesn't mean much at a local and regional level. It has the necessary facilities and services and ample parking space, but the area lacks the recognizability needed to live inside the collective memory of Heverlee and/or its visitors. The location between the municipal parish and the Sint-Lambertus Church is telling. Despite the presence of both, there is nothing here to experience. This is not a place where people congregate. It's a widening of the Waversebaan where to park and go to the market on Sunday.
The goal is to find meaning for the residential core of Heverlee, starting with the transformation of its environment and proposing a spatial framework to create a new identity.

ACCESSIBILITY, PARKING AND MODAL SHIFT
A center can only be experienced and developed if it is easily accessible by all. This means developing a public space everyone understands. At the same time, the core must be interpreted differently and links are needed to create space between the center and its surroundings to give definition to places for other possibilities.
The ambition is an affordable and accessible living center Heverlee that is interrelated with its environment and with possibilities for long-term parking available not far away. An intervention on the site of Oud-Heverlee Leuven also plays an important role.

SUSTAINABILITY AND CLIMATE ADAPTATION
The proposed interventions aim to be maximally sustainable. The focus is on climate robustness and mobility transition. The intention is to follow the standards of the Ecopolism model not for the design of the public space and for the buildings. As regards public space, this means enough space for green-blue functions developed with natural solutions such as: opting for a permeable soil (water management), adding trees (heat island, shading), space to provide green and water, as in the form of play-gardens
As for the buildings, it is possible to examine how much water can be stored immediately at the roof level and what possibilities exist for collective energy generation, green elements and reuse.

ONE INTERVENTION IN THE 'MAATLESS' SPACE
Both the district and stadium sites are currently functionally furnished. In both cases you feel lost inside a space without clear dimension.
The ambition is to look for a simple intervention that returns a sense of size along with various atmospheres that used to be intrinsically present. On the site, the municipal district consists of the addition of a surface that defines a new hierarchy; on the site of the stadium a new walkway organizes all the space in a single movement.